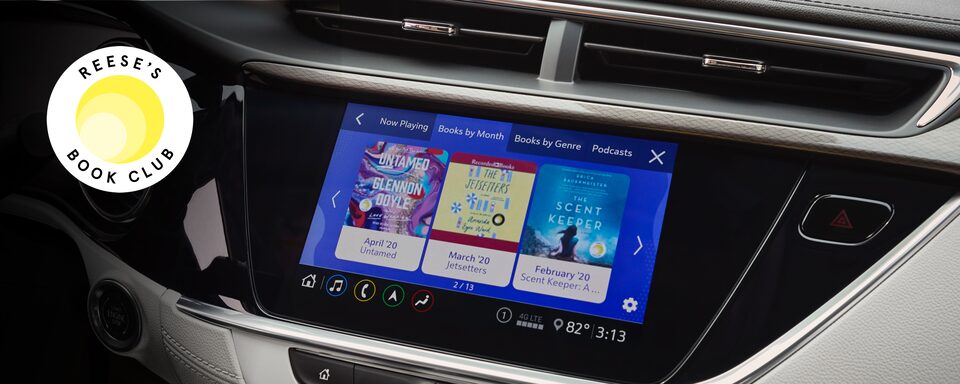 TURN EVERY DRIVE INTO A GREAT STORY

SAY HELLO TO THE REESE'S BOOK CLUB APP

Buick is proud to announce a first-of-its-kind collaboration with Hello Sunshine, the media company founded by Reese Witherspoon that's changing the narrative for women–and that's home to Reese's Book Club. Together, we've created the Reese's Book Club In-Vehicle App,† powered by Audiobooks.com. The available app features book recommendations and a curated set of podcasts that put women at the center of the story. These selections are now available to stream exclusively in properly equipped 2021 Encore GX models.
REESE'S BOOK CLUB AUDIOBOOKS AND HELLO SUNSHINE PODCASTS

---

AVAILABLE IN SELECT BUICK INFOTAINMENT SYSTEMS†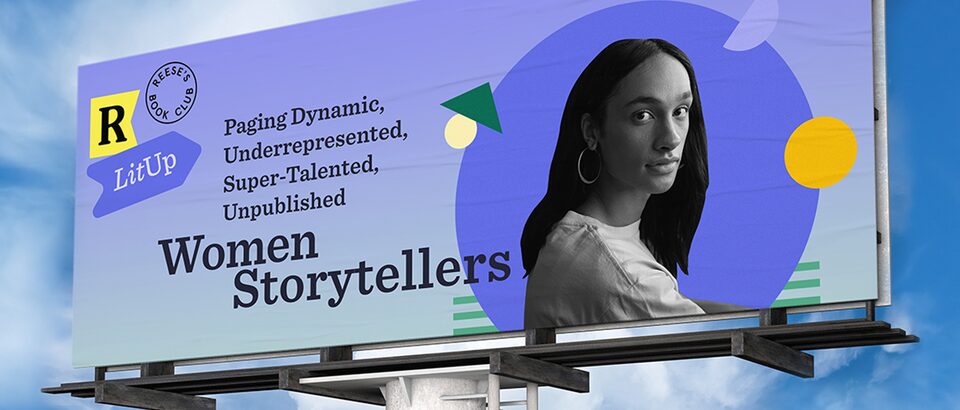 FINDING AND UPLIFTING NEW STORYTELLERS
Whether you're curled up on the couch or listening behind the wheel on a long road trip, enticing stories from fresh voices can change your perspective. Reese's Book Club has driven the discovery of new talent and launched LitUp by Reese's Book Club, a fellowship that provides five emerging writers with the resources to tell and publish their stories. Underrepresented women writers will be supported to share their craft—and Buick looks forward to being their first audience.
---
---
AN INNOVATIVE COLLABORATION
SHIFTING STORYTELLING INTO HIGH GEAR
Like all Hello Sunshine initiatives, the Reese's Book Club app celebrates women at the center of the story. So it's only natural that General Motors engaged a female-led team of engineers to develop the app. Led by Daphne Zargar, Sarah Cleveland and Hayley Serr, the team collaborated with Hello Sunshine to create a fully integrated In-Vehicle App—no phone needed. Available on select Buick Encore GX models, the app allows you to travel accompanied by a collection of audio content including Reese's Book Club books and Hello Sunshine podcasts.
---
"I WANT YOUNGER GIRLS TO SEE THERE ARE WOMEN IN TECHNOLOGY POSITIONS. I'VE BEEN A FAN AND I'M FAMILIAR WITH HOW THE WORK COMING OUT OF HELLO SUNSHINE HAS REALLY GIVEN WOMEN OF ALL AGES AND BACKGROUND OPPORTUNITIES."
Daphne, Global Manager for In-Vehicle Apps and Partner Relations, achieved a personal goal through developing the app.

---
As the lead coder and developer for the project, Sarah used her extensive experience with other apps to present a fully functioning app to the Hello Sunshine team in just a day.

---
Hayley, Product Owner for In-Vehicle Apps and Partner Relations, ensured the app complemented Hello Sunshine's online presence, both in content and aesthetics—including the signature bright yellow color.

---