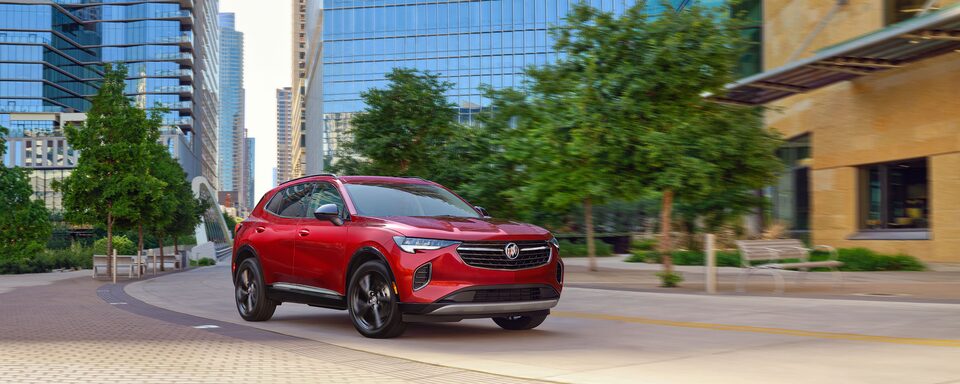 MY BUICK REWARDS: APPRECIATION FOCUSED ON YOU AND YOUR BUICK

---
Captivating, stylish, and refined — what's not to enjoy about driving a Buick? And with My Buick Rewards†, Buick drivers will find out just how much better the road ahead can get over time.
Designed to show appreciation for customers, My Buick Rewards members can uncover benefits and exclusive offers throughout their ownership experience. Points can be earned on most typical Buick vehicle experiences — including eligible, new vehicle purchases†, most OnStar®† and Connected Services plans†, paid Buick Certified Service† visits, and eligible purchases from Buick Accessories†.
There's even the ability to fast-track earning points with the all-new My GM Rewards Card†. Cardholders earn 4 points† spent on everything, everywhere and 7 total points† spent on GM products and services.
There's no cost to sign up for My Buick Rewards, and enrollment is quick and simple. Once registered, owners can start taking advantage of flexible ways to level up through three membership tiers†: Silver, Gold and Platinum. Or jump ahead and automatically enjoy Gold Tier Rewards membership status by applying and being approved for the My GM Rewards Card†.
Tiers are based on an individual's purchase of eligible, new GM vehicles; and eligible parts, accessories, services; most OnStar and Connected Services plans— plus member spend on the My Buick Rewards card for cardmembers. The breadth of opportunities to earn points and move up tiers allows members to enjoy even more benefits and exclusive offers. Plus, a customer's purchase history with all GM brands will be recognized toward their incoming membership tier.
For example, drivers can earn points through routine paid maintenance† at a participating Buick Certified Service location, or by adding a data pass for the in-car Wi-Fi® Hotspot† through Buick Connected Services.
These points can be earned and later redeemed on services like paid vehicle maintenance at a Buick Certified Service location or most Connected Services plans or earn/redeem points by shopping online for parts and accessories through Buick Accessories. Points from My Buick Rewards can even be saved and used toward the purchase or lease of an eligible, new Buick vehicle†.
Earning and redeeming points is just the start to unlocking extras with My Buick Rewards. There are exclusive benefits like birthday bonuses, access to special offers and points sharing with other members of your household. Plus, points for Gold and Platinum tier members will never expire.
To learn more or to enroll, visit the homepage for My Buick Rewards.
---
---