---
HOW TO SET AUTOMATIC TEMPERATURE CONTROLS

Difficulty Level: Novice  |  Time Required: 5 Minutes  |  Tools Required: None

Here's how to set your preferred temperature with automatic temperature controls (if equipped). With the AUTO mode selected, the temperature inside your vehicle changes to your preferred temperature without any further action on your part.

---
HOW TO SET AUTOMATIC TEMPERATURE CONTROLS

Treat the system as you would your home thermostat where you set it and forget it.

1. Press the AUTO button. This may be located on the centerstack, within the climate app on your infotainment screen or in both places. Locations vary by vehicle; check your Owner's Manual.

2. Set your desired temperature. The system is designed to adjust the fan speed, air flow distribution and delivered air temperature to quickly and efficiently reach and keep the interior of your vehicle at the temperature you set.

3. The A/C button will light up. NOTE: This doesn't necessarily mean the air conditioning is on — it just means it's available for the system to automatically turn it on if it's needed.

4. If equipped with Dual-Zone or Triple-Zone systems, you can set temperatures for each zone. To have a single temp set for the entire cabin, press SYNC and all the zones will lock to the driver's zone settings.

---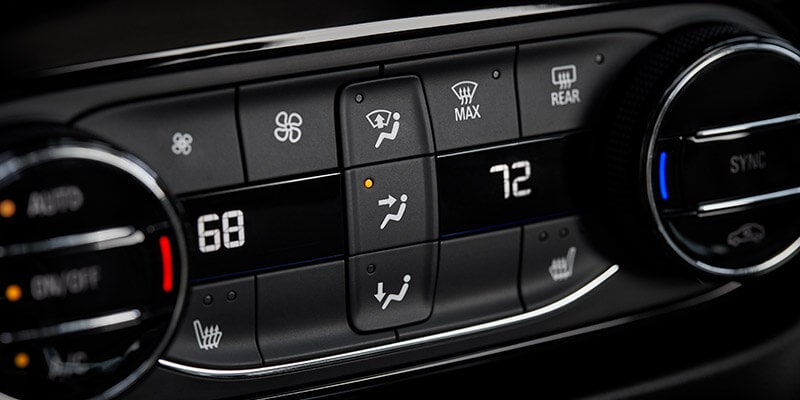 Note: If equipped with Remote Start, the climate control system can be programmed to run automatically when the vehicle is started remotely. The system uses the interior climate settings you set before you last turned the vehicle off.

Q&As

---
Pick a regular, comfortable temperature setting, just like you would on your thermostat at home. Then press AUTO. The system will automatically figure out how to get to that temperature most quickly.

The system is working, but there are some things it can't completely control or measure, such as the clothing you're wearing. It also can't control the direction in which the vents are aimed. For these reasons, you may need to occasionally make small temperature adjustments.

LOOKING FOR SOMETHING ELSE? 

---
For your security, please don't include personal info such as phone number, address or credit card details.
NEED MORE HELP?

Communicate with one of our specialists.

---
To find out if your vehicle has this feature, contact your dealer or refer to your vehicle's equipment list. Please check your Owner's Manual for more information about features.