---
SPEAKING UP
A LIFE OF COMPETITION FORGED JAMIE BARBOUR
---
Buick celebrates the achievements of all athletes. Although more than 40 percent of athletes are women, they get less than 10 percent of the media coverage. Buick strives to increase women's visibility in sports by encouraging viewership, supporting initiatives that drive equity, and creating platforms for women to have meaningful conversations about the issues that face them. Driven by this mission, Buick is launching a campaign called "See Her Greatness" so that women can achieve their fullest potential.
Jamie Barbour knows all about Buick's "See Her Greatness" campaign. Not only does she understand it — she lived it. As a student athlete at the University of Michigan, Barbour was an active member on three conference championship teams in track and field. She also developed many characteristics shaped by athletics that she applies to her job as a Senior Manager for Advertising and Media at General Motors. Buick recently met with Barbour to talk about her athletic career, the challenges faced by female athletes and the importance of Buick's "See Her Greatness" campaign.
---
BUICK: LET'S START FROM THE TOP. HOW DID YOU GET INTO THE AREAS OF TRACK AND FIELD WHERE YOU EXCELLED IN HIGH SCHOOL AND COLLEGE?

Jamie Barbour: My middle school had a track-and-field team and, while I knew nothing about it besides all the running events, I initially wasn't interested. To me at the time, it was only track, nothing about the field. In seventh grade, we could start to try out for the different sports teams, so at the start of my seventh-grade year, when one of the gym teachers heard that I was only looking to join basketball, swimming and volleyball, he made it his job to convince me that I should end the year with track and field. He told me that shot put would be an awesome event and one that I would enjoy. He also promised me that, if I did it, then I wouldn't have to run the mile for gym class in eighth grade. That was reason enough for me. Needless to say, I tried it and really liked it, but still had to run the mile in eighth grade. My negotiation skills have sharpened a bit since then.
---
DO YOU HAVE A FAVORITE EVENT AND, IF SO, WHY?

In high school, my events of focus were shot put and discus. In college, however, I was introduced to — and competed in — not only shot put and discus, but also the indoor weight and the hammer. In all honesty, my favorite event depended on the day and my performance because there were some really amazing days, but man there also were some bad ones. I could be riding high and reaching personal records in one event one day and, on that same day, I could have a performance in another event where I didn't even place or qualify. I would say that the event that was the most fun and where I truly felt explosive and powerful was the hammer. The discus was the event where I learned the most about patience and mental focus. The weight was all about strength for me and the shot put was all about grace and familiarity given the years and training I had in that event.

WHAT WERE SOME EARLY CHALLENGES YOU FACED AS AN ATHLETE — EITHER IN HIGH SCHOOL OR COLLEGE — AND HOW DID YOU OVERCOME THEM?

I am so thankful for all the experiences that track and field has provided me. I can't recall a singular moment where I faced a challenge other than achieving the next personal record, qualification or win. Looking back, there might have been some that I pushed back or ignored because my focus was on the next competition. I do think that track-and-field athletes, however — and more so at the collegiate level — don't necessarily get the respect or notoriety they deserve. While the resources I had at my fingertips for training as well as academic support were plenty, there always was a little chip on the shoulder when it came to scholarships, facilities (since I've left, the facilities have improved immensely) and experiences that our football program and basketball programs, for example, experienced. Granted, collegiate track and field wasn't televised and people weren't charged to attend a meet or event. But that shouldn't diminish the hard work, time, opportunities and sacrifice the athletes put toward their sport. Our sport didn't necessarily bring money into the school, but we brought blood, sweat, tears and a passion. We won conference titles, had athletes who won national championships and still continue to do that.
---
"I LOVE THE EFFORT AND PASSION BUICK IS PUTTING TOWARD THE 'SEE HER GREATNESS' CAMPAIGN… HOW GREAT IT IS TO EMPOWER PEOPLE TO BE THE BEST VERSIONS OF THEMSELVES." 
— JAMIE BARBOUR

WERE THERE ANY COACHES AND/OR MENTORS WHO GAVE VALUABLE GUIDANCE AND, IF SO, HAS ANY OF THEIR ADVICE STUCK WITH YOU TODAY?

I have had some amazing coaches and mentors throughout my track and field days. However, the one coach who stands out the most and made the biggest impact on my career was my dad. My dad will always tell the story of a day when the two of us were playing catch outside. I might have been 6 or 7 and, after throwing to him a couple times and making him work a little harder than he might have wanted, he said, "Jamie, you throw like a girl." I instantly replied, "Dad, I am a girl." He always tells this story as a humbling moment for him and that I was right — I was a girl — and instead of making a girl an adjective for something weak or not as good, he could help redefine what that not only meant for him, but what it meant for my future.
Needless to say, from that day, my dad not only spent the time to teach me how to properly throw a ball in a fierce game of catch, but he also spent much of his time supporting, educating (while learning himself) and celebrating each athletic achievement I had, track and field included. He played hockey and knew nothing about throwing, so he read books, ordered videos and watched and studied the sport and technique. When we found out that my high school didn't have a dedicated throwing coach due to resources, my dad asked to coach the throwers pro bono. It was my sophomore year of high school when I started to have collegiate coaches reach out and he was there for every conversation, putting together portfolios of my achievements and talking me through how to be bold and tell the coaches what I wanted out of program to see if they were able to deliver.
I don't have a particular quote that has necessarily stuck with me — my dad is a talker so, believe me, there are millions — but I can say that there wasn't a high or low in athletics or life in general where my dad wasn't there to provide that shoulder and guidance to get through the low times or celebrate the amazing high times.
HOW DID YOUR EXPERIENCE AS AN ATHLETE SHAPE YOUR CAREER AT GENERAL MOTORS?
I think my experience as an athlete taught me some of the more obvious lessons of teamwork, communication and the importance of focusing on a goal to achieve that goal. However, I think what sticks out the most for me is the confidence and self-awareness required by athletics. That has been something I've leaned on and appreciated in my career at General Motors. I know my strengths and I make sure to voice and act upon them. Self-awareness can be motivating and it can be humbling, but it has guided me to some amazing opportunities. I am proud of who I am and I know there is always more to learn as techniques can be improved upon and strategies can be optimized. Plus, it doesn't hurt when you love to win.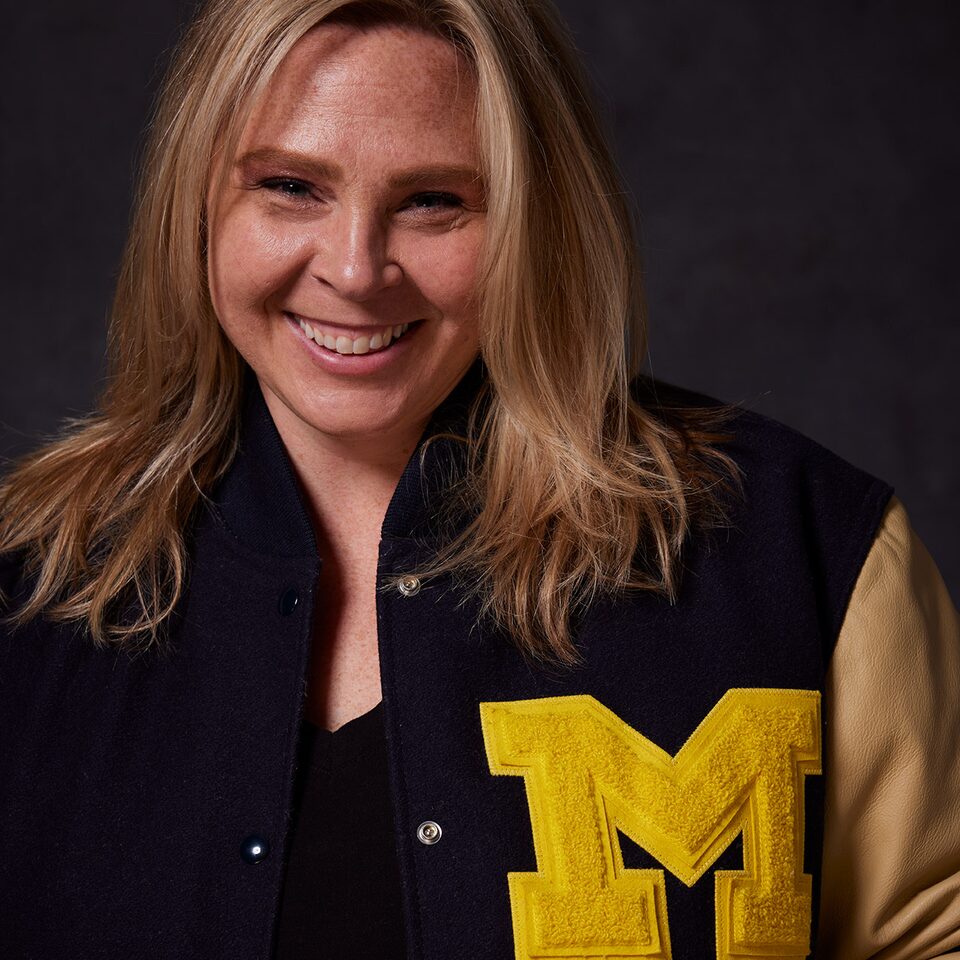 BARBOUR WAS AN ACTIVE MEMBER OF THREE CONFERENCE CHAMPIONSHIP TEAMS.

AS A FORMER COLLEGE ATHLETE, WHAT DOES BUICK'S "SEE HER GREATNESS" CAMPAIGN – AND ITS EFFORT TO INCREASE VISIBILITY OF WOMEN'S SPORTS – MEAN TO YOU?

I love the effort and passion Buick is putting toward the "See Her Greatness" campaign. Athletes put so much of their time, effort and — in all honesty — their lives into their sports. Whether you are male or female, to knock one over the other or have to point out that one might need the same resources or works as much or as hard is just ridiculous. To have a love for something, to work toward something and to identify myself as something and then to have a person, brand or society pay such little attention or disregard it as something not as important is so defeating. Buick is a brand that plans to help make sure that doesn't happen. That's why educating people through a campaign like "See Her Greatness" is so important. How great it is to empower people to be the best versions of themselves. I support Buick in its efforts to achieve this and thank them for creating a platform for myself and others to join in and empower others.

---
WHAT'S SOMETHING MOST PEOPLE WOULD PROBABLY BE SURPRISED TO KNOW ABOUT YOU?

This question is always a hard one for me and it could be because I probably put too much pressure on myself to think of something extremely surprising. The first thing that comes to mind — aside from hating roller coasters — is that, when I was in high school, and after experiencing a day at work with my aunt who worked in advertising, I vowed that I would never end up in advertising. Needless to say, that's a promise I broke to myself. Thank goodness, though, because I've loved the experiences and opportunities that advertising and GM have provided and continue to provide. I guess, as a teenager, you really don't know everything you think you know. And yes, my dad was there as I came to that realization, too!