HOLDING COURT

---
Passion and focus drive Suzy Merchant

---
Suzy Merchant remembers the one instance when she stepped in to instruct her son and his team about basketball. "My drills were pretty intense for the 12-year-olds," she recalls with a laugh. "That was the first and last time. I've learned as a parent that the one voice my kids should hear when playing is their coach."
This example underscores what has made Merchant so successful as a college coach; an intensity and an emphasis on the fundamentals of the game, but also a big-picture view for the proper development of players.
The Traverse City, Michigan, native has been coaching young women for 25-plus years; first at Division II Saginaw Valley State, then at Eastern Michigan University (where she is the all-time winningest women's coach) and, for the past 14 years, at Michigan State University.
She has enjoyed considerable success during her time in East Lansing, not only in the win column — her teams have captured two Big Ten titles — but in preparing her players for life beyond college.
Merchant recently talked with Buick's B magazine about the challenges and rewards of coaching young athletes and how, through hard work and some good fortune, she's kept her eye on the ball.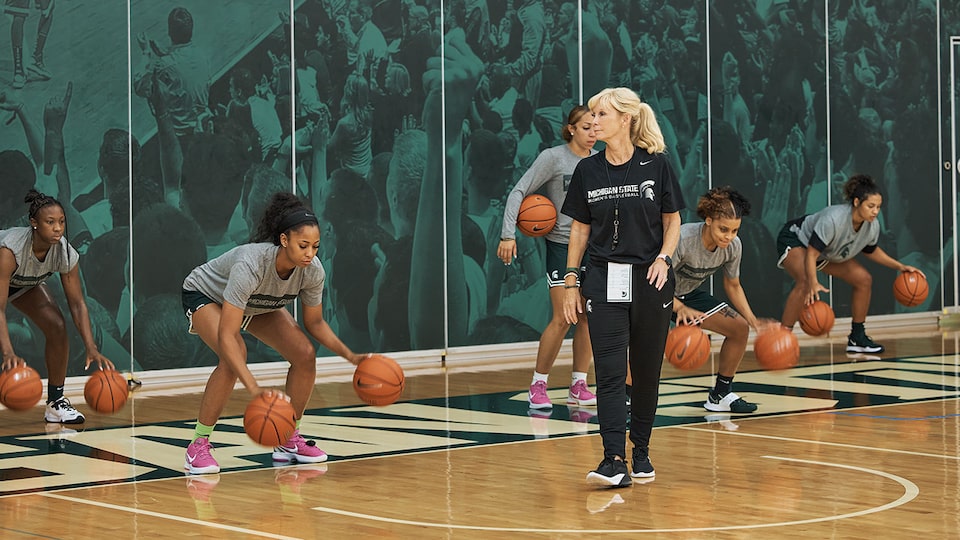 Buick's B Magazine: WHAT ARE THE CHARACTERISTICS THAT A GOOD COLLEGE COACH MUST HAVE?

Suzy Merchant: You have to be genuine and authentic to who you really are. You can't fool the kids by being someone that you're not. You also have to be prepared to empower your players. They are going through a period of great change and sometimes you have to push them when they encounter adversity. I'm blessed to be a part of their journey.

---
B: WHAT, IN TURN, DO YOU EXPECT FROM YOUR PLAYERS?

SM: There are three things, really, and they are nonnegotiable. One is to have a strong work ethic. You can't accomplish anything if you don't embrace work, and it's part of our Spartan culture. Secondly, you must exhibit character — meaning you're a good teammate and a good ambassador for the university. Finally, you must be passionate. We put in a lot of long hours, and you have to love to come to the court and compete every day.

---
B: HOW DID YOU FIRST GET DRAWN TO BASKETBALL?

SM: I was the only girl with two brothers, so there was always a need to compete. I loved the teamwork element of basketball; I was into gymnastics for a while, but I missed working with others. My high school coach also was an inspiring figure, emphasizing the importance of playing defense, in particular.
---
B: YOU WERE A FOUR-YEAR STARTER AT CENTRAL MICHIGAN UNIVERSITY, AND THE CAPTAIN OF THE TEAM FOR THREE YEARS. WHAT DID YOU LEARN AS A PLAYER THAT YOU HAVE CARRIED FORWARD AS A COACH?

SM: As a point guard, I was distributing the ball and generally facilitating things, so there was a sense of responsibility to others that I still have as a coach. And, as in high school, the emphasis was on defense, which starts with the point guard. That's something I still value.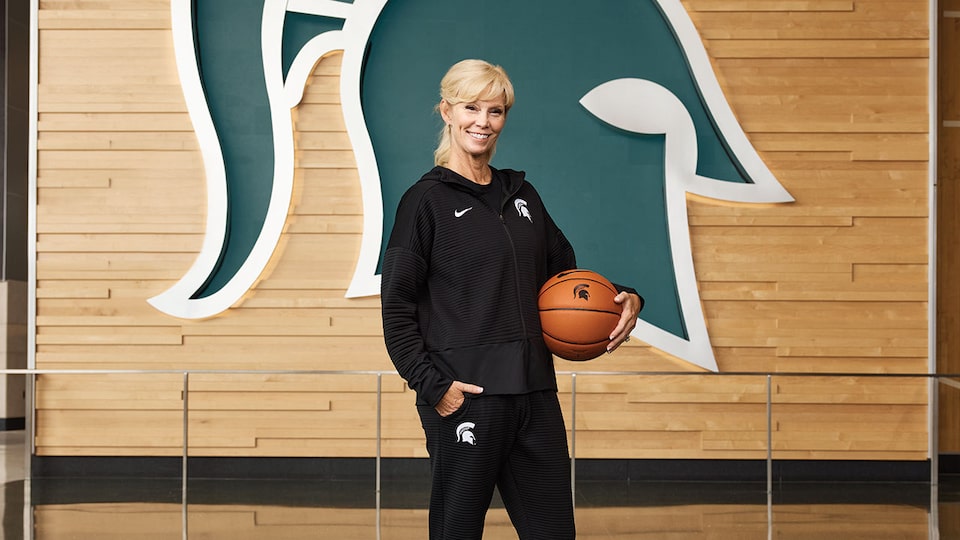 B: WHY DID YOU WANT TO BECOME A COACH, AND WHAT WERE YOUR FIRST STEPS TOWARD THIS CAREER?

SM: A college teammate turned to me during one game and said I should become a coach, but I kind of said "no thanks" at the time. After college, I was working at my grandparents' condo down in Florida when my high school coach informed me of an opening at Oakland University as a part-time assistant. I found how much I enjoyed mentoring young women, helping them with outside issues and setting goals.
Eventually, the men's coach there told me that Saginaw Valley State was looking for a head coach. I thought I would go for the interview — that it would be good professional development — but I had no expectation that they would hire me. I was too young to even rent the vehicles to transport players.

---
B: CAN YOU DETAIL THE CHALLENGES YOU'VE FACED MOVING TO EACH OF YOUR SUCCESSIVE POSITIONS?

SM: The jump from Saginaw Valley State to Eastern Michigan was a significant one, because you're going to Division 1. But going from Eastern to Michigan State surprised me because of all the elements outside the job — such as the boosters, the community involvement, the media obligations and the general pace of life. I had three assistants and a video coordinator. And, when you're recruiting, you're competing for McDonald's All-Americans.

---
B: HOW DO YOU VIEW THE STATE OF WOMEN'S BASKETBALL AND WOMEN'S ATHLETICS AT THIS TIME?

SM: The recent Kaplan report indicates that there is still significant gender inequality between men's and women's athletics. Since the inception of Title IX, resources for women's sports have increased, but there are still ceilings to break. On a university level, we can do more to elevate and celebrate women on campus.

I think the NIL (Name, Image and Likeness) legislation is a positive step forward for women's athletics; it will increase our players' branding opportunities. But, we need to put the foot on the gas with the resources we have — social media, television exposure, community engagement — to really promote our game.

---
B: WHAT ADVICE WOULD YOU GIVE TO WOMEN WHO WANT TO GET INTO COACHING?

SM: If you are looking to pay it forward and empower others, coaching is a great opportunity to do that. I started a graduate assistant program at MSU for those who have an interest in this profession, and I've had people go on to be assistants, a video coordinator — even a director of basketball operations.
One of my former players is now our strength and conditioning coach and works hard every day to make our girls more fit. She is an amazing role model. In this social media-driven world, I think young women are starving for personal relationships, and a good coach can provide that and more.