FRONT-ROW SEAT WITH BUICK IN-VEHICLE APP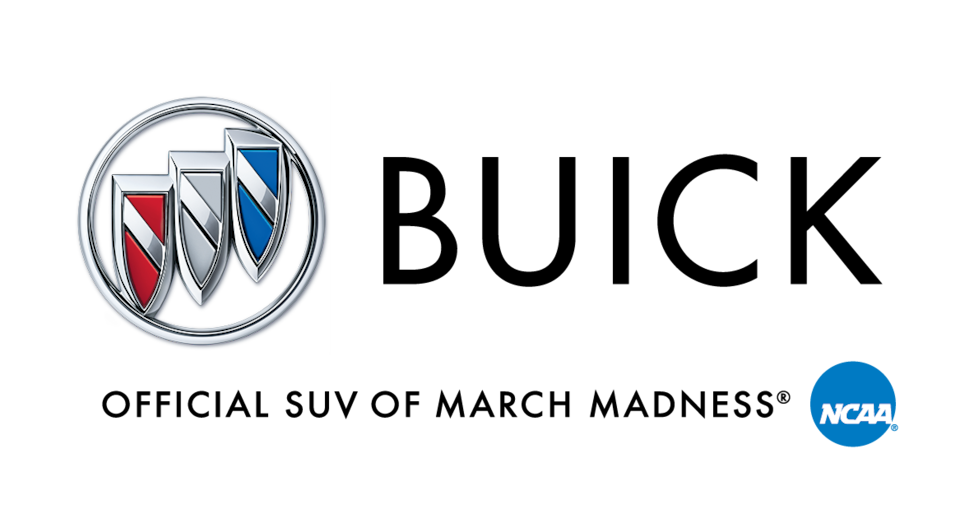 ---
Buick's NCAA® March Madness® In-Vehicle App immerses you in the action as the popular basketball tourney rebounds in 2021. Here's a behind-the-scenes look at the app and how it was developed.
---
---
After last year's season ended on the sidelines due to the Covid-19 pandemic, NCAA basketball has returned in 2021 with plans to crown a national champion in its annual spring tournament. And the available Buick NCAA March Madness In-Vehicle App1 will be there for all the action on the court.
Although the tournament itself will be different this year — with all games set to be played in Indiana instead of across the country, for example — the Buick app has been updated to adjust to whatever changes may occur leading up to, or even during, the event.

The app, which was first introduced to Buick infotainment screens in 2018, will continue to provide an all-access pass to the tournament with live game coverage and highlights — from the First Four® all the way to the championship game.

Buick owners with properly equipped vehicles won't miss a minute of the action from their vehicle, thanks to Buick's official partnership with the NCAA and the latest in-vehicle technology. The March Madness app is automatically installed on vehicles and can be activated from an icon on the Buick Infotainment System2 screen as long as the vehicle has an active data plan. The app preloads to Buick vehicles just prior to the tournament start and goes live when the first games tip off.

---
---
GM Senior Software Developer
"I'm really excited about this app and I think owners are going be very happy with the in-vehicle experience," says Tom Joseph, GM Senior Software Developer. "They'll love how up-to-date it is, how easy it is to listen to the games, and they'll have live scores. And, I think they're going to be overjoyed to have a tournament again this year."
---
---
 FOUR TABS PROVIDE LISTENERS WITH ALL THINGS TOURNAMENT-RELATED:

---
Hear active games streaming live from the court. Listen to coverage of your favorite team or flip between ongoing games using arrows on the screen. This tab also displays game time, a scoreboard and the current round of the tournament. (If you push "pause," real-time coverage will resume when you start up again.)

---
Experience audio highlights from all active games in this "March Madness mix" that helps you keep an ear to the tournament's best moments without having to switch between games.

---
Find out which games are scheduled for the current day in chronological order. (This tab can't be accessed while the vehicle is in Drive.)

---
Catch up on the day's scores, including recent finals, on this screen that's organized by round. (This tab can't be accessed while in Drive.)

---
Buick's app development team makes it a priority to provide owners with the latest in technology and the content they value most while helping to keep them safe while driving. The NCAA March Madness app accomplishes it all.

"Our biggest priority beyond all of the cool, new things we can do is to do them as safely as possible," Joseph says. "One of the things my team likes to say is, 'We're trying to build apps that we don't actually want you to use. We want the app to do it for you.' We favor minimal interaction and maximum readability, or listenability."

He says that creating an In-Vehicle App is different than providing one for a phone, computer or smart watch because there's a different context with driving involved. That's why the app development team is very careful and deliberate in how apps are published in the platform, undergoing a thorough certification process that includes reviews with safety, privacy, cyber-security and legal teams.

GM's Driver First Framework (DFF), which was created around the time the app's first iteration was developed in 2018, allows the team to accelerate the development and certification process. DFF is a set of pre-approved tabs and flows that measure driver workload — specifically how much cognitive demand is placed on a driver performing vehicle-related tasks. Having the framework in place makes it possible for developers to quickly create and update In-Vehicle Apps while maintaining driver safety above all else.

Joseph says that the first version of the app was developed in just two weeks, while apps in general could take up to a year or more in development time. The NCAA March Madness app introduced several industry firsts, including the live game view and filled-in graphic backgrounds. It also was among the first to use a tab system of organization over traditional menus. Those features are now used by other prominent apps.

The first version of the March Madness app was primarily audio-based, offering owners a chance to listen in on any active tournament games, Joseph adds. An ideal model for a tech company, the app was conceived, built and ready to use in two weeks and has since served as the standard for apps that have followed.
In 2019, the development team rewrote the entire application from the ground up to allow Buick owners to view real-time game data. With help from Turner Sports and the NCAA, the app provided live game scores and information as well as the tournament schedules and final scores.

---
---
"One of the more interesting challenges of this release was testing, as the application was developed before the tournament data was available," Joseph says. "We developed a server that would allow us to replay testing data from Turner Sports outside of their testing windows. Game data could also be simulated by hand to provide specific scenarios for testing. This allowed us to not only validate the application, but also to get it in the hands of real users well before the tournament. It proved to be an invaluable tool."

Plans were in place for another updated version of the app in 2020, but the arrival of the Covid-19 virus put an end to the tournament before it could even begin — the tournament was cancelled the day the app was set to launch. That makes it all the more exciting to introduce the 2021 version of the app, Joseph says.

"This year, the main upgrades are behind the scenes because we are working hard to ensure that the application is ready to respond to any change in circumstances," Joseph says. "If the tournament is delayed, rescheduled or otherwise reshuffled, the app will be ready to respond to any situation at hand."

The development team works closely with other GM teams that occasionally even provide unique basketball knowledge or design expertise to help create and interpret app features.
"We've had a lot of great feedback on this app," Joseph says. "I think people have been blown away by it. It's one of GM's most successful applications, even in its limited release for only Buick vehicles."

---
---
TIP-OFF TIME: START USING THE APP

---
---
---
FOLLOW THESE STEPS TO BEGIN USING THE APP:

---
Make sure your vehicle is in Park and swipe the infotainment screen to find the NCAA icon. (It may be on the second or third icon screens.)


Accept the Terms and Conditions upon first use.


Find the tab you'd like to access (Live, Highlights, Schedule or Scores) and enjoy the special content!

The NCAA app requires an active data plan, but it is available to Buick owners with properly equipped 2017 model year-and-newer app-capable vehicles at no additional charge.

If your Buick does not currently have an active in-vehicle data plan, you will receive an alert that allows you to purchase more data by simply pushing the blue OnStar button.

Available on select 2017 model year-and-newer Buick vehicles with compatible hardware. Additional data plan rates may apply. Third-party trademarks are the property of their respective third-party owners and are used under agreement. Requires active service plan and paid AT&T vehicle data plan or compatible device with 3G/4G LTE tethering data plan. See onstar.com for details and limitations.


Functionality varies by model. Full functionality requires compatible Bluetooth and smartphone, and USB connectivity for some devices.

---
NCAA, First Four and March Madness are registered trademarks of the National Collegiate Athletic Association.

---